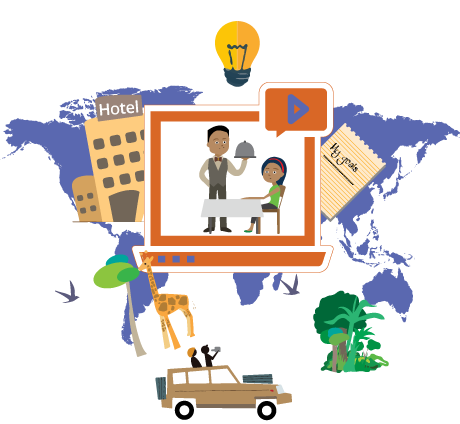 Ukarimu is freely available for any organisation that aims to train young Africans in relevant skills for the tourism and hospitality industry. As such, the aim of Ukarimu is to help create employment and to help further developing the quality of human resources in the tourism and hospitality industry all over Africa.
It can only be a success if it remains relevant to the actual workplace. That is why Ukarimu needs to be improved continuously and therefore we invite every organization that has worked with the curriculum to share its experiences so that Ukarimu can be further improved in the future!
Stay in touch with Ukarimu
You will be informed on new opportunities.
Late 2019 Ukarimu launches the first course that organizations and companies can use to train African youth. In 2020 more support for facilitators and institutes will be developed and added to the platform.
Late 2020 Ukarimu wants to add the possibility for institutes to become Ukarimu accredited. The accreditation process will come with a training of trainers and an assessment and recommendations to optimize the training facility and approach.
Interested? Register on the left and we will keep you updated on our progress and the opportunities that Ukarimu has to offer.
Because this open-source curriculum is designed to be accessible to anyone who wants to facilitate training for active learning we encourage feedback and additions of success stories of inspiration.
We hope that you will find it informative, innovative and instructional to provide a spring board syllabus for young and eager learners.